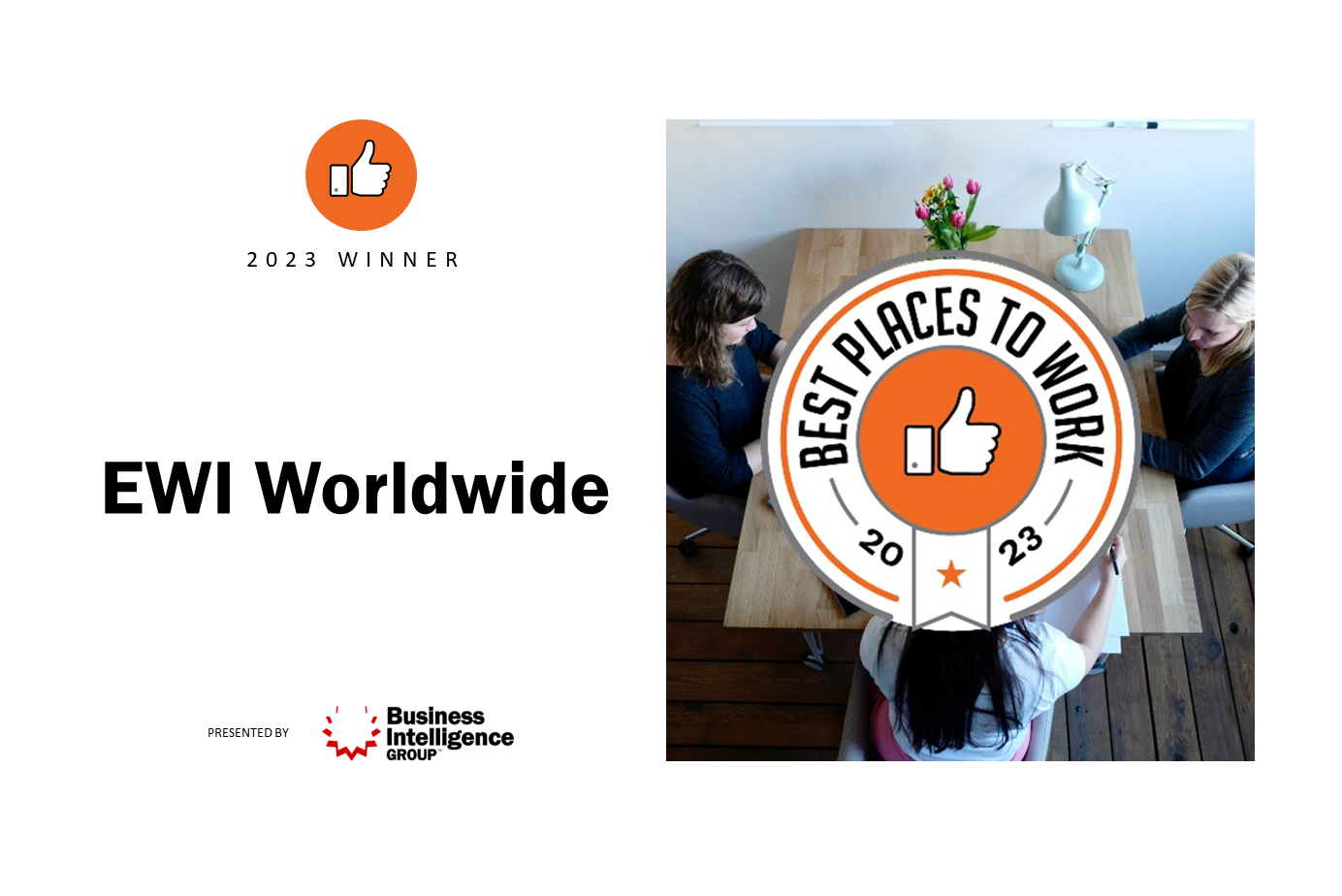 EWI is (officially) a "Best Place to Work"
Last week, The Business Intelligence Group announced the winners of its 2023 Best Places to Work award program. This award honors organizations that are "doing all they can to improve performance by challenging their employees in fun and engaging work environments." And (as you've no doubt guessed if you've read this far) EWI was deeply honored to learn we were included on this list.
Now, we love awards. (And if you've been paying attention to this blog, you probably already know that we've received our fair share of shiny trophies over the past few years.) But this one is especially meaningful.
In our opinion, the Best Places to Work program offers a pretty accurate measure of the actual health of a workplace — because awards are given out based on real feedback from real employees (the ones who live and breathe a company's culture every day). So if your company is doing a good, mediocre or downright terrible job in the eyes of your employees, you're going to hear about it through this awards program.
And jeez, did our team have encouraging things to say about what it's like to work at EWI:
"I feel my work is both appreciated and respected. My ideas are always considered and open for discussion. I'm given the opportunity to learn and also am effectively supported by employees in other departments. I'm given the opportunity to lead without being micro-managed and have support of the people I report to and everyone in the company."
"EWI is like a family, and that mindset starts at the top with our owner. He takes pride in the team and truly listens to ideas and feedback on how to grow and support the teams. At EWI you have a voice and seat at the table regardless of title or rank."
"This is the greatest company I've ever worked for. I'm proud of what we do and working here brings me great satisfaction."
These sentiments are especially impactful considering where EWI has been in recent years. Not long ago, the future looked pretty murky for our company (and our entire industry). During COVID-19 lockdowns, people simply stopped leaving their houses. And it's hard to create amazing in-person experiences when everyone is sheltering at home. Many of our employees worked with reduced wages, limited resources, and a lot of uncertainty hanging over the future.
And yet, here we are — still doing the work that we love alongside the people who matter most to us. So this award feels like a pretty big honor, as it reflects the feelings of our resilient, dedicated people. They are truly what makes EWI a "best" place to work.